Anonymous Artists
View Artist Biography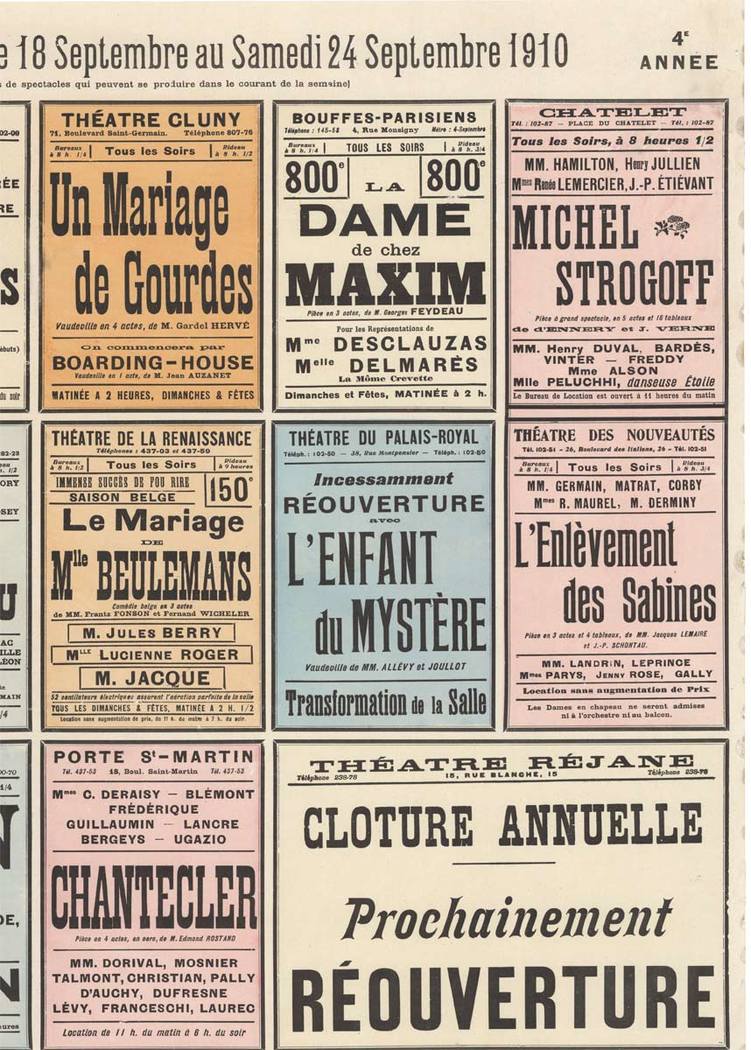 Title:
Officiel Paris Spectacles
Linen backed original of the official event spectacles of Paris, promoting Moulin Rouge, Salome, Musee Grevin, Sarah-Rita, Madame Butterfly, Carmen, La Vie de Boheme. Orignial in excellent condition.

This theater poster is now over 110 years old, very good condition, archival linen backed. A great way to own a piece of theater history showing all the famous shows and theaters of Paris in 1910.

The Moulin Rouge "Tut en Blue", Musee Grevin Cinematographie, Salome at the Casino de Paris, Dufayel, Saha-Rita, Palais of Mirages, Chantecler, and more.

This type of event poster that is dated for 18 "- 24 September 1910 were normally printed on very thin cotton paper. They were easily destroyed or damaged, and very few of them survived.

This is a perfect poster for any person who is in the theater and open, likes art nouveau posters. Suitable for any room in a home or office; or a special spot inside your theater room.

This is the original 1910 linen backed original, it is not a reproduction. This poster, as well as all our vintage posters arrive with a Certificate of Authenticity.

The Vintage Poster is an IVPDA gallery that deals exclusively with the old rare lithographs. We look forward to helping you with your selection. Available 24/7 online at www.TheVintagePoster.com. Delivered directly to your door.
View Artist Biography