Roger Soubie&nbsp
(1898-1984)
View Artist Biography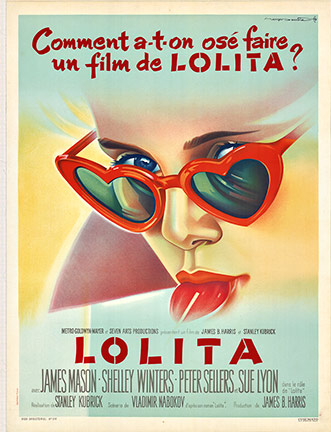 Size:
47 x 63 inch (French)
LOLITA; Artist: Roberg Soublie (1898 - 1984); original French full size 47" x 63" lithograph vintage movie poster. This poster is archival linen backed and ready to frame. Excellent condition.

Linen backed vintage movie poster, linen trimmed to the edge. Very good to excellent condition. Large original French language poster for the Stanley Kubrick film "Lolita" starring James Mason and Shelley Winters, dating to 1962. "LOLITA"

This Lolita is an Original Vintage Poster; it is not a reproduction. This poster is conservation mounted, linen backed to preserve and protect the poster, and in excellent condition.
We guarantee the authenticity of all of our posters.

Secure website ordering 24/7 on line by adding this original poster to your cart and checking out; OR by phone during gallery hours. Our vintage posters come with a C.O.A.

The Vintage Poster located in Laguna Beach, California is a brick & mortar gallery where you are personally welcome to visit us during gallery hours to preview any of the original posters that are featured on the website.