John Alvin&nbsp
(1948 - 2008)
View Artist Biography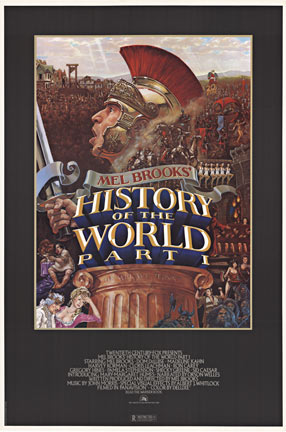 Title:
History of the World Part 1
Medium:
Offset-Lithograph
Original one sheet U S movie poster; linen backed. HISTORY OF THE WORLD PART I 1sh '81 artwork of Roman soldier Mel Brooks by John Alvin!
Mel Brooks' History of the World Part I, the 1981 Mel Brooks historical epic screwball comedy ("In Mel we trust!"; "Written Produced and Directed by Mel Brooks") starring Mel Brooks, Dom DeLuise (as Emperor Caesar), Madeline Kahn, Harvey Korman, Cloris Leachman, Ron Carey, Gregory Hines, Pamela Stephenson, Shecky Greene, Sid Caesar, Mary-Margaret Humes (billed as "introducing Mary-Margaret Humes"), and narrated by Orson Welles.