Andre Galland&nbsp
(1886 - 1965)
View Artist Biography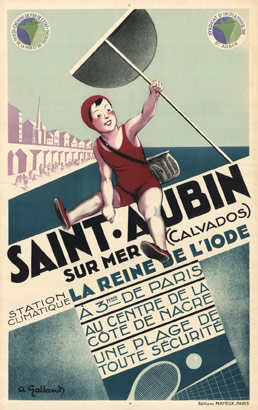 Mint, original, Saint Aubin Sur Mer (Calvados)
In 1930, Saint Aubin was only 3 hours from Paris by train. Vintage travel poster.
This poster shows a young girl in her bathing suit juxtaposed with the water, and a little shot of a tennis court beneath her.
This poster has been archivally mounted on linen. Excellent condition

This is an Original Vintage Poster; it is not a reproduction. This poster is conservation mounted, linen backed, and in excellent condition.
A Certificate of Authenticity comes with all of our posters.