Richard Amsel&nbsp
(1947-1985)
View Artist Biography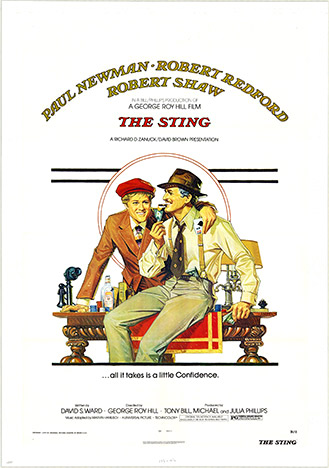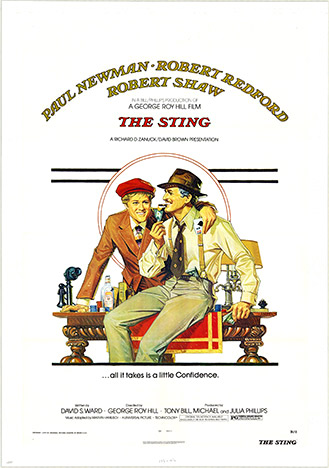 Medium:
Offset-Lithograph
The Sting: Original, U.S. one sheet theater poster, archival linen backed and ready to frame:

The Sting, the classic 1974 George Roy Hill gambling con men crime comedy ("...all it takes is a little Confidence."; "Written by David S. Ward"; Best Director & Best Picture Academy Award winner [Tony Bill, one of Sinatra's proteges, produced this movie along with Michael and Julia Phillips to win the Oscar]; about a group of con men who swindle a criminal out of a huge amount of money) starring Paul Newman, Robert Redford (in his nominated for Best Actor Academy Award role), Robert Shaw, Ray Walston, and Charles Durning.

This is a genuine 27" x 41" U.S. one sheet ORIGINAL MOVIE POSTER issued by the studio when the film was released and meant for theatrical display. The original fold marks have been restored at the time of linen backing.

You can order 24/7 on line by adding this original poster to your cart and checking out or by phone during gallery hours. You may also visit the gallery in person and view this original vintage poster.

THE STING. NSS: 74/8 Very good to excellent condition; ready to frame.

Starring Paul Newman, Robert Redford, Robert Shaw, Eileen Brennan, Charles Durning, Ray Walston, Robert Earl Jones, Ta-Tanisha, Harold Gould, John Heffernan, Dana Elcar, Jack Kehoe, Dimitra Arliss, James Sloyan, Charles Dierkop, Lee Paul, Sally Kirkland, Avon Long, Arch Johnson, Ed Bakey, Joe Tornatore, Tom Spratley, and William 'Billy' Benedict. Directed by George Roy Hill.