Anonymous Artists
View Artist Biography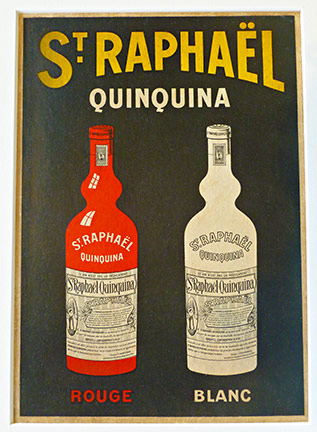 Title:
St. Raphael Quinquina Bottles
Original small format St. Raphael Quinquina Rouge Blanc French liquor poster.
Presented in an acid free 16 x 20 folder.
The story of ST RAPHAËL is rich in history and tradition. This famous French aperitif is often associated with the "30 Glorieuses" – the 30 glorious, happy and carefree years after WWII. However, ST RAPHAËL established its fame long before the war. It's invention dates back to 1830, and a major marketing campaign at the 1900 l'exposition universal de Paris was a major success. This was a time of animated cafés, lively bistros, and village dances, which served as opportunities to exchange words of friendship with a glass in hand.

You can order 24/7 on line by adding this original poster to your cart and checking out or by phone during gallery hours. You may also visit the gallery in person and view this original vintage poster.