Anonymous Artists
View Artist Biography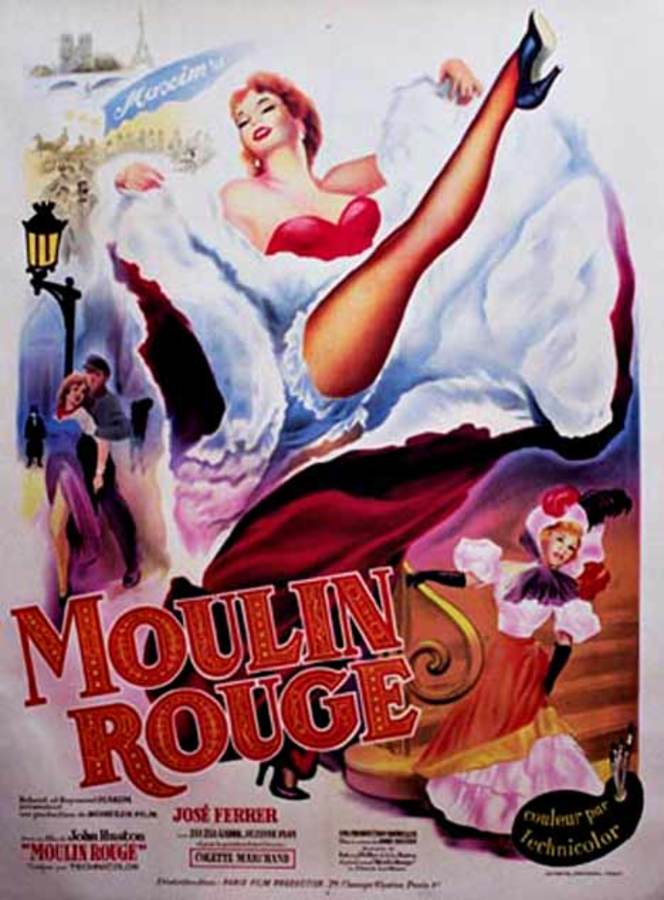 Size:
47 x 63 inch (French)
Original, linen backed 1953 stone lithograph vintage film poster: MOULIN ROUGE. Excellent condition; ready to frame.

(from the first release of this movie in France) Vintage Theatrical Folded French One-Panel "Grande" Movie Poster (1p; measures 47 1/4" x 63"
John Huston's Moulin Rouge (released in the U.S. in 1953), the 1952 John Huston (nominated for the Best Director Academy Award) English Paris France fictional-biography musical melodrama ("Wild, Wicked, Wonderful Paris ...All her Loves, Ladies and Lusty Legends!"; "...The most startling and daring love story ever told!"; "All its sin... its splendor... its lusty love for life!"; "From the novel 'Moulin Rouge' by Pierre La Mure") starring Jose Ferrer (in his nominated for Best Actor Academy Award role, as the famous diminutive artist Toulouse-Lautrec; Ferrer played the entire movie on his knees, with his legs strapped to the back of his thighs), Zsa Zsa Gabor, Suzanne Flon, Colette Marchand (billed as "introducing Colette Marchand"; in her nominated for Best Supporting Actress Academy Award role), and Claude Nollier

This MOULIN ROUGE French grande is a genuine ORIGINAL MOVIE POSTER issued by the studio when the film was released and meant for theatrical display.

The Vintage Poster located in Laguna Beach, California is a brick & mortar gallery where you are personally welcome to visit us during gallery hours to preview any of the original posters that are featured on the website.