Otto Neilsen&nbsp
(1916 - 2000)
View Artist Biography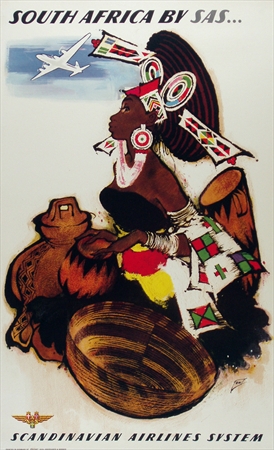 Medium:
Offset-Lithograph
Linen backed, Original South Africa by SAS...
SAS stands for: Scandinavian Airlines System
Linen backed and in good condition. The image features one of the old prop planes flying in the sky and the colored SAS logo on the left hand side. The lady dressed in tribal clothing and hair is surround by local crafts and woven bowls.
Otto Neilsen always featured a small plane in the sky in all of his SAS posters. Each country reatured either animals, a tradtiional scene; or like this one; an image of the people you would meet when you would arrive in South Africa.