Eugene Savage&nbsp
(1883- 1978)
View Artist Biography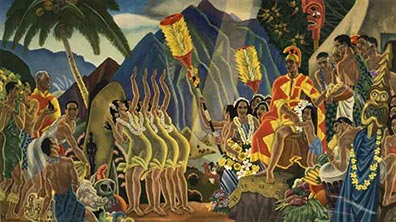 Title:
Matison Lines Hawaii- Pomp and Circumstance
Original. Presented in a 24" x 16" acid free museum mat.
This bright and joyous image is of native Hawaiians celebrating their gods' through dance. Bright yellows, pristine colors, and dramatic landscape all add to the delightful exuberance exuded by this piece. This is a 9 color lithograph. The original painting hangs in the Smithsonian Institute as a permanent display.