Paul Igert&nbsp
(1899 -)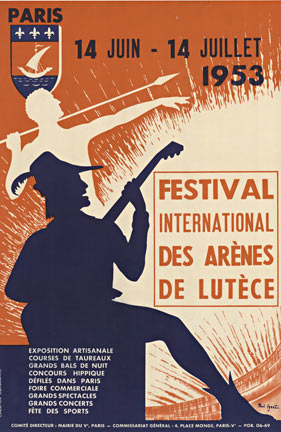 Title:
Festival Int'l Des Arenes De Lutece
Original, linen backed "Festival International Des Arenes De Lutece". Festival International des Arènes de Lutèce. Paris, France. Dates were from 14 June to 14 July 1953.
Arènes de Lutèce is: (Roman ruins in the old Roman part of Paris). The Arènes de Lutèce are among the most important remains from the Gallo-Roman era in Paris (formerly known as Lutèce in French or Lutetia in Latin), together with the Thermes de Cluny. Lying in what is now the Quartier Latin, this amphitheater could once seat 15,000 people, and was used to present gladiatorial combats.