Michael P Whelan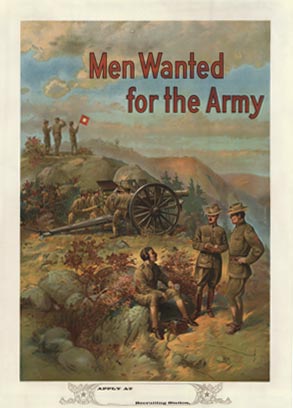 Title:
Men Wanted for The Army (Canon)
Medium:
Chromo-Lithograph
Men wanted for the army / Michael P. Whelan. U.S. Army recruiting poster showing officers and soldiers sending or receiving information through wireless and signal flags, other soldiers position and prepare to fire a cannon. Infamous WWI poster original featuring recruiting and propaganda from the World War I era. Items in this collection are haunting reminders of the grim face of war.
Rawls p. 55 chromolithograph of artillery crew, very early wireless operator, and signalmen.
Linen backed; prestine condition.