H Liskars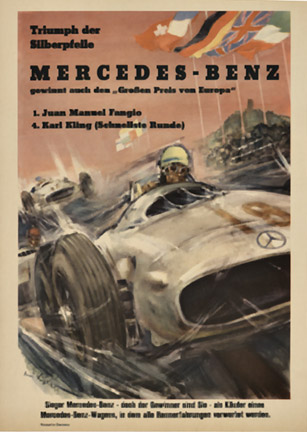 Title:
Mercedes Benz Triumph der Silberpfeile
Medium:
Offset-Lithograph
Mercedes Benz Triumph der Silberpfeile. Year: 1954. Size: 8.5" x 11.75"

This vintage poster was created for the Mercedes Corporation to present their victories in motor racing during the Mercedes Grand Prix in 1954, which took place in Europe. The company displayed which Mercedes drivers placed. Those winners that year were Juan Manuel Fangio in 1st and Karl Kling in 4th place.

Known, as the Silver Arrows (die Silberpfeile), they were the fastest racecars the world had ever seen.
1. Juan Manuel Fangio
2. Karl Kling (Schnellste Runde) fasted round.
Sieger Mercedes-Benz - doch der Gewinner sind Sie - als Kaeufer eines Merces-Benz-Wagens, in dem all Rennerfahrungen verwertet werden.
W 196 Mercedes Benz 8-cylinder in-line engine; 5-speed gearbox; Double wishbone.

Printed in Germany. Linen backed. Excellent condition.
Presented in a 16 x 20 acid free presentation matts.

This is an Original Vintage Poster; it is not a reproduction. This poster is conservation mounted, linen backed, and in excellent condition.
We guarantee the authenticity of all of our posters.

Secure website ordering 24/7 on line by adding this original poster to your cart and checking out; OR by phone during gallery hours.
You may also visit the gallery in person and view this original vintage poster. Our vintage posters come with a C.O.A.

The Vintage Poster located in Laguna Beach, California is a brick & mortar gallery where you are personally welcome to visit us during gallery hours to preview any of the original posters that are featured on the website. We publish our prices because we know your time is valuable.