Clare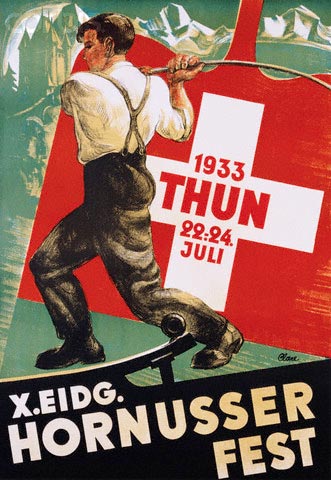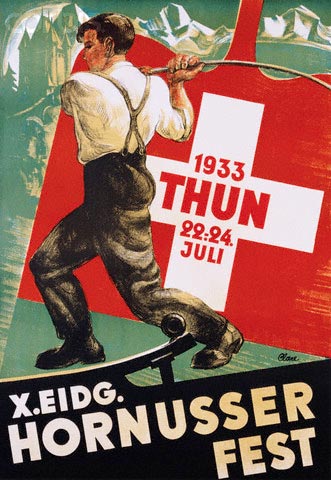 Title:
Hornusser Fest Thun 1933 (Switzerland)
HORNUSSER FEST; Thun, Switzerland; 1933. Art size: 26" x 39". Original stone lithograph by th artist Claire. Framed size: 40" x 52.5". Archival linen backed antique Swiss sports and travel poster.

Stone lithograph Poster for 1933 "Hornusser Fest" in Thun, Switzerland by Clare. Image 26 x 39". Framed in a Roma moulding with a 4" hand wrapped matt and museum plexi. Frame size: 40" x 52.5"
The Hornusser Fest is nicknamed 'Swiss Golf" . The image features the 'pitcher' who is standing in front of the Swiss flag as the paddle; with the date of '1933" and the Swiss Alps pearing up behind.

An old Swiss sports game where a player using a pole (somewhat like a fishing pole) and throw a rounded block of wood against the other team who try to block the throw with large 'shingles" or panels of light wood. (The red part of this image is the paddle with the emblem of the Swiss flag and the 1933 date; and THUN (Switzerland).

This Hornusser Fest is an Original Vintage Poster; it is not a reproduction. This poster is conservation mounted, linen backed to preserve and protect the poster, and in excellent condition.
We guarantee the authenticity of all of our posters. This poster is sold framed and the sales price does include the frame, hand wrapped mat; and museum quality 98.5% UV plexi in this price.

The Vintage Poster Gallery of Laguna Beach, California., Your Ultimate Resource for Vintage Posters. You can purchase here on line or directly in the Laguna Beach gallery. You save the 15-25% auction add on hammer prices when you buy gallery direct.