Boris Grinsson&nbsp
(1907-1999)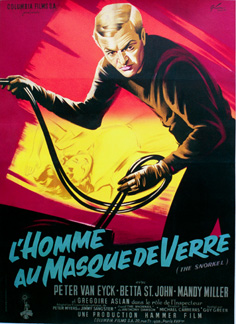 Size:
47 x 63 inch (French)
Museum linen backed.
This is another of the underrated and seldom seen suspense films that Hammer put out in the late 1950's, early 60's. It has sort of a Colombo flavor to it as we see the sinister Van Eyck very creatively murdering his wife in the opening scenes and spending the rest of the film attempting to convince a suspicious niece that he is innocent. It is a very atmospheric black and white film, a media which should be taken advantage of more even today as a tool to establish mood. Van Eyck is superb as the villain and the supporting cast is first rate. The Snorkel is not really a classic but is solid and holds up fairly well after almost half a century.