Anonymous Artists
View Artist Biography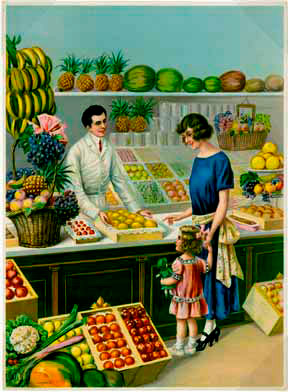 Medium:
Chromo-Lithograph
Fruit Stand; original antique vintage small format poster; size: 15" x 20.25". Chromo-lithograph.

This Fruit Stand poster is an original on heavier paper stock. In the Fruit Stand a mother and daugher look onward to the box of fresh fruit that they are presented by their grocer. Sounding them are crates, and boxes, and stackes of fabulous looking fruits and vegitables. This was beautifully printed in Germany.

Small format poster suited for your kitchen or dining room. Also a great affordable gift idea

The Vintage Poster Gallery of Laguna Beach, California., Your Ultimate Resource for Vintage Posters. You can purchase here on line or directly in the Laguna Beach gallery. You save the 15-25% auction add on hammer prices when you buy gallery direct.

Search keywords: original poster; antique poster; original German poster; food poster; fruit poster; colorful poster.